"France's island autonomy". C'est le titre de mon article publié dans PV Magazine International (pages 118, 119 et 120, n° de juin 2017). ça y est c'est parti à l'impression.

Iles dont il est question dans l'article: Corse, Belle-île-en-mer, Marie-Galante, île de Sein, La Réunion, Mayotte.

Olivier Daniélo

Musique: Green Island Serenade
This song has often been associated with a political meaning, for the real Green Island was used as a place of exile for political prisoners from the late 1940s during the single party rule of Taiwan's Kuomintang (Chinese Nationalist Party). A prisoner there named Gao Yudang claimed to have authored the lyrics before he died.
This green island, is like a boat meandering through the moonlight.
Darling, you are floating in the ocean of my heart.
Let the melody of my song follow the breeze, blowing through your curtains.
Let my love go with the flowing water, serenading you.
The coconut tree's long shadow cannot hide my gentle love.
The clear bright moonlight brightens my heart.
This green island night appears so peaceful.
Darling, why are you still silent?
Reporterre a choisi une jolie illustration pour l'article ci-dessous. Il s'agit du phare des Poulains à Belle-île-en-mer:
L'absurde retard de la France dans l'énergie solaire
La France produit moins d'électricité solaire que... l'Angleterre. Pire encore, la puissance raccordée stagne. L'auteur de cette tribune explique les raisons de ce retard français : une politiq...
https://reporterre.net/L-absurde-retard-de-la-France-dans-l-energie-solaire
Amongst the flowers I am alone with my pot of wine drinking by myself; then lifting my cup I asked the moon to drink with me, its reflection and mine in the wine cup, just the three of us; then I sigh for the moon cannot drink, and my shadow goes emptily along with me never saying a word; with no other friends here, I can but use these two for company; in the time of happiness, I too must be happy with all around me; I sit and sing and it is as if the moon accompanies me; then if I dance, it is my shadow that dances along with me; while still not drunk, I am glad to make the moon and my shadow into friends, but then when I have drunk too much, we all part; yet these are friends I can always count on these who have no emotion whatsoever; I hope that one day we three will meet again, deep in the Milky Way.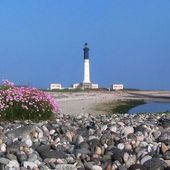 IDSE - Ile de Sein Energies - Home
IDSE - Ile de Sein Energies
He went bankrupt, worked as a ditch digger, suffered a nervous breakdown - and in later years, became insane, claiming he was in contact with aliens from other worlds.
() "Be alone, that is the secret of invention; be alone, that is when ideas are born."
() Some of our best ideas come, not in meetings or through committee, but rather, in solitude. In today's world of noise and distraction, quiet reflection is to be cherished - producing powerful day dreaming, moments of "what if?" and free thought without limits. Tesla preferred to work alone and allowed his mind to wander. Remote control technology, wireless communication and robotics came from the mind of Tesla. Reserve "alone" time this week and experience great ideas coming to the fore.
Je connais ce sentiment, de solitude et d'isolement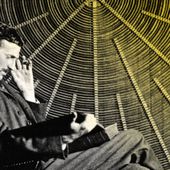 Nikola Tesla avait compris que le patriarcat est le poison de nos sociétés - Objectif Terre
@LeilaniMunter "The awakening of the intellect of women" (Nikola Tesla) https://t.co/tDpSf2VnH9 " One of the most surprising, most obscure, yet most incisive of Tesla's predictions peers into the ...
http://www.electric-ecosystem.com/2017/05/nikola-tesla-avait-comrpis-que-le-patriarcat-est-le-poison-de-nos-societes.html
"In my whole life, I have known no wise people (over a broad subject matter area) who didn't read all the time — none."
La Reine du Ciel. Rana (g-Reno-uille), Rainette. Ca-Rène de la Bar-Que, Bar-Co, Vir-Go, de la Vier-Ge. La porte de la Maca-Rena. La faiseuse de pluie (Rain) fertile. "This green island, is like a boat meandering through the moonlight." - "Nous sommes des REINES" (A-Riana Grande)
"I saw myself as the source of existence. I was there in the beginning, and I was the spirit of Love"
Nous avons besoin de sens